Posted by MrGoodBytes in News | 0 Comments
FFVIIR Themes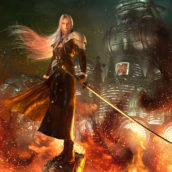 Square-Enix has shown off a few themes that are (or will soon be) available for the PlayStation 4
Which one is your favorite?
Final Fantasy VII will launch exclusively on the PlayStation 4 on April 10, 2020 (though it will presumably come to other console after a year based on box art). If you haven't pre-ordered yet, you can do so here. Warning: Be aware that Amazon may not provide release day delivery at this time.
Square Extreme may receive a commission from any product links.