Posted by MrGoodBytes in News | 0 Comments
FFVIIR Red XIII Avatars And Wallpaper Available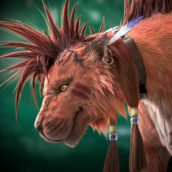 Square-Enix has added Red XIII to their downloadable avatars and wallpaper list, joining Cloud, Tifa, Aerith, Barret, and Sephiroth. Grab them at https://sqex.link/mi0 (the short links Square-Enix provides usually do not work for me, if you have difficulties, go to https://ffvii-remake.square-enix-games.com directly and navigate to Downloads).
Final Fantasy VII will launch exclusively on the PlayStation 4 on April 10, 2020 (though it will presumably come to other console after a year based on box art). If you haven't pre-ordered yet, you can do so here. Warning: Be aware that Amazon may not provide release day delivery at this time.
Square Extreme may receive a commission from any product links.